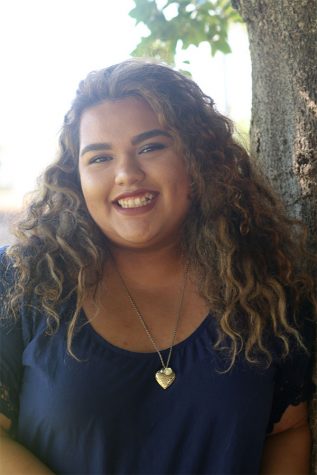 Position: 
2015-2016 Entertainment Editor 2016-2017 Features Editor
Nickname(s):
Stevie
Fun Fact: 
My aesthetic is lipstick, sunglasses and female superheroes.
Hobbies: 
When I'm not obsessing over Chris Pine or at the cinema, I'm most likely nose deep in a book or ranting about feminism.
Why I joined journalism and what it means to me:
I joined journalism in the hopes of improving my writing. Coming out of middle school, I knew joining the newspaper would definitely be an experience I couldn't shake. I'm leaving high school with four years of journalism under my belt and it's a great feeling. Journalism has opened many doors for me and given me the opportunity to not only grow as a writer but as a person as well. I see the world differently now, with opened eyes and I'm grateful for it.
Goals on staff and after high school:
I hope to become a strong member of the staff. A staff member people could rely on and turn to gain more responsible experience in a work environment. While I'm not very sure on which job I plan to pursue, I hope to follow a path in entertainment. Whether it be working with publishers, write and read screenplays, or become a director — I'm eager to learn.
Estefany Nunez, Features Editor
May 09, 2017

Flicks to pick for May 2017

(Story)

Apr 10, 2017

FAMILY: Experiencing worst fears

(Media)

Apr 03, 2017

Flicks to pick for April 2017

(Story)

Apr 02, 2017

SPIRIT MONTH: Upcoming weeks

(Story)

Mar 03, 2017

Flicks to Pick for March 2017

(Story)

Feb 03, 2017

Problems will persist despite the recent rains

(Media)

Jan 24, 2017

Flicks to Pick for February 2017

(Story)

Dec 02, 2016

Flicks to pick for December 2016

(Story)

Nov 19, 2016

Flicks to Pick for November 2016.

(Story)

Nov 10, 2016

Be Proud Be Responsible Offers Insight on Sexual Education

(Story)

Nov 09, 2016

Williams achieves spike in passion through volleyball

(Story)

Oct 30, 2016

Spirit Week: November 2016

(Story)

Oct 06, 2016

Flicks to pick for October 2016

(Story)

Oct 06, 2016

Cheer shines during halftime show at Sac State

(Story)

Sep 11, 2016

Spirit Week: September 2016

(Story)

Aug 29, 2016

'Suicide Squad' entertains but still disappoints

(Story)

Aug 29, 2016

Flicks to pick for September 2016

(Story)

Aug 25, 2016

PERLA GONZALEZ: Bracing herself for senior year

(Story)

Aug 05, 2016

Flicks to pick for August 2016

(Story)

Apr 04, 2016

Flicks to pick for April 2016

(Story)

Mar 16, 2016

BRANDON ALONSO-RAMOS: Tennis creates brotherly bonds

(Story)

Mar 07, 2016

'Zootopia' is a terrific, must-see

(Story)

Mar 02, 2016

The Oscars ARE racist

(Story)

Feb 29, 2016

Flicks to pick for March 2016

(Story)

Feb 01, 2016

'The Finest Hours' tides in as a great thrill

(Story)

Jan 26, 2016

'Agent Carter' returns with a bang

(Story)

Nov 13, 2015

Whitewashing takes away opportunities

(Story)

Nov 08, 2015

From 'Spectre,' with disappointment

(Story)

Nov 08, 2015

This week's schedule explained

(Story/Media)

Nov 02, 2015

'Supergirl' pilot soars

(Story)

Oct 08, 2015

'The Martian' is a brillaint, insightful read

(Story)

Sep 25, 2015

What's happening on homecoming?

(Story/Media)

Sep 23, 2015

'Maze Runner: The Scorch Trials' amazes

(Story)

Sep 22, 2015

Homecoming week gets spirited

(Story)

Sep 02, 2015

DAVID ALMANZA: Running, what he does best

(Story)

Aug 10, 2015

Remake is not so 'Fantastic'.

(Story)

May 02, 2015

'Avengers: Age Of Ultron' exceeds high expectations

(Story)

Apr 30, 2015

Koletta Wooten: Athlete at heart

(Story)

Apr 10, 2015

'DEADPOOL' should stay true to character, be rated R

(Story)

Mar 13, 2015

Julia Rosete: Freshman finds fun in new sport

(Media)

Mar 17, 2015

Whatever it takes to make the weight

(Story)

Feb 23, 2015

'The DUFF': Next new popular teenage romcom

(Story)

Feb 20, 2015

Mardi Gras gets larger turnout

(Story)

Feb 10, 2015

Senior puts trauma of Katrina in past

(Story)

Feb 03, 2015

Groundbreaking #LikeAGirl ad airs during Super Bowl

(Story)

Jan 29, 2015

WEEKLY SPORTS FOCUS: Jordyn Garcia

(Story)

Jan 26, 2015

'Angelfall' is a humorous yet twisted read

(Story)

Jan 23, 2015

Opportunity to win an Ed Sheeran concert at Stagg

(Story)

Jan 14, 2015

Female lead fights crime and misogyny in 'Agent Carter'

(Story)

Jan 13, 2015

My true love gave to me a nice review

(Story)

Dec 15, 2014

'How to Get Away with Murder' thrills viewers

(Story)

Nov 17, 2014

Twin defines herself as an individual

(Story)

Nov 07, 2014

Street harassment should not be considered a compliment

(Story)

Nov 06, 2014

Volunteering is more than giving back

(Story)

Oct 09, 2014

WEEKLY SPORTS FOCUS: Vernesha Shaw

(Story)

Sep 21, 2014

'The Maze Runner' breaks 'book is better' stereotype

(Story)

May 19, 2014

Fairy tales, cyborgs, magic make 'Cinder' work

(Story)

Jan 17, 2014

Pages to another world

(Story)