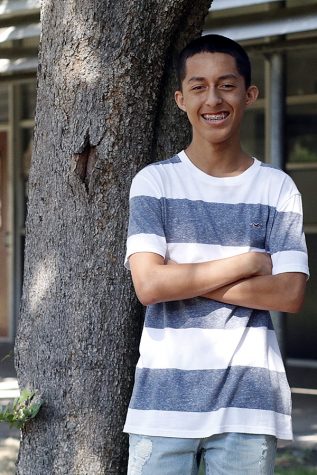 Position:
Reporter
Nickname(s):
D-Dawg, Donatrizzle, Donatrin
Fun Fact:
I love mayonnaise and my favorite color is blue.
Hobbies:
Hanging out with Sherman.
Why I joined journalism and what it means to me:
I joined journalism because I wanted to challenge my writing skills and be more involved with the school. It means a lot to me to be on the staff of one of the best newspapers in the country.
Goals on staff and after high school:
My goals on staff are to write the best stories I can. After high school I hope to go to UCLA and pursue my dreams.
Donavin Collins, Reporter
May 24, 2018

'13 Reasons Why' found guilty of disappointing fans

(Story)

May 18, 2018

'Riverdale' manages to stay successful as a series

(Story)

May 18, 2018

'Infinity War' exceeds expectations

(Story)

May 15, 2018

Summer blockbusters expected to bring hype

(Story)

Apr 18, 2018

KEVIN PHAN: Salutatorian manages school and sports

(Story)

Mar 19, 2018

Long awaited sequel ultimately disappoints

(Story)

Mar 02, 2018

Black Panther claws its way to the top

(Story)

Mar 01, 2018

Take a stand against guns

(Story)

Feb 07, 2018

Super Bowl commercials take the spotlight

(Story)

Feb 02, 2018

Phillips recalls his time at Olympics

(Story/Media)

Jan 31, 2018

Two minutes till midnight

(Story)

Jan 26, 2018

Tide Pods, it's not food it's detergent

(Story)

Jan 03, 2018

Sex sells and tv shows buy

(Story)

Dec 14, 2017

Stagg hosts Super Smash Bros. tournament

(Story/Media)

Dec 13, 2017

SARAH JOHNSON: Wrestling helps shape for track

(Story)

Dec 12, 2017

Will Hero system work for our high school?

(Story)

Dec 06, 2017

New Avengers trailer brings excitement

(Story)

Nov 21, 2017

'Justice League' amazes, but also slightly fails

(Story)

Nov 09, 2017

'Thor: Ragnarok' stands out among Thor movies

(Story)

Oct 06, 2017

Horror films leave a bitter aftertaste on daily life

(Story)

Oct 02, 2017

Taking initiative to bring back off campus passes

(Story)

Sep 28, 2017

Student witnesses Hurricane Harvey

(Story)

Sep 01, 2017

VMA's entertain, but also disappoint

(Story)