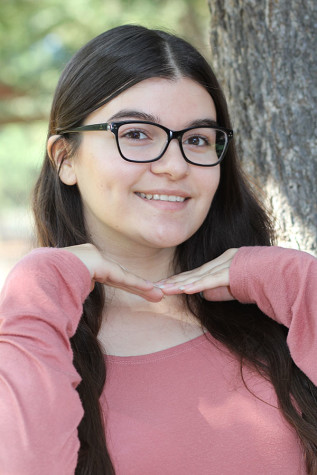 Position: Editor in Chief 2015-2016
Nickname(s): Sealion, Nerd in Chief, Head Hipster, Big Nerd
Fun Fact: I wrote a book when I was in first grade. It's pretty good.
Hobbies: Singing, playing the piano, writing, reading, community service, social activism, tweeting and blogging on Tumblr
Why I joined journalism: After a year and a half of feeling out of place in high school, I was given an opportunity I had to take to better myself and my future, and to foster my new passion of writing. The beauty of journalism is that there are endless possibilities for a story. There's over 7 billion people on this planet— each one of us has a story and I want to tell it.
Goals: I've always felt like a jack of all trades, but a master at none. Writing, however, has always come easy to me. Although I'm leaning towards majoring in English or journalism, I still have a love for math, science and technology. Hopefully, I can always keep writing and telling the stories of others. Above all, I don't ever want to stop learning.
Celine Lopez, Editor in Chief
Apr 18, 2016

Healthy Start's services not known by all

(Story/Photo)

Apr 15, 2016

Economic, cultural factors help to determine good health

(Story)

Mar 09, 2016

DOUGLAS HUANG: Friendships on team build competition

(Story)

Mar 07, 2016

PATHWAY TO SUCCESS

(Story/Photo)

Mar 05, 2016

Being married at young age more common in Hmong culture

(Story)

Mar 04, 2016

Young Dems go to state convention

(Story/Photo)

Feb 29, 2016

KIMBERLY HILLS: Black History Month is worth celebrating

(Story/Video)

Feb 19, 2016

AVID, business skills students experience mock interviews

(Story)

Feb 01, 2016

Stagg reaches blood drive goal

(Story/Photo)

Jan 22, 2016

Eighth graders test out new waters at pre-registration

(Story)

Jan 08, 2016

#StaggStateUnion

(Story/Photo)

Dec 28, 2015

History of the gamer girl

(Story)

Dec 18, 2015

Adults value worldly experiences

(Story)

Nov 28, 2015

Terrorism doesn't always have a brown face

(Story)

Nov 13, 2015

SAFETY FIRST?

(Story/Photo)

Nov 10, 2015

VIDEO OF POLICE BRUTALITY SHOCKS STUDENTS

(Story)

Nov 09, 2015

CHRISTINA MARTINEZ: Veteran's Day should be honored

(Story/Video)

Oct 26, 2015

DESTINY GUZMAN: Personality adds energy to moves

(Story)

Oct 24, 2015

Teens scream for 'Queens'

(Story)

Oct 02, 2015

Tell us your thoughts with #DearFuturePres

(Story/Photo)

Sep 19, 2015

PLANTING THE SEED

(Story)

Sep 18, 2015

WEEKLY GALLERY: Art class draws in creativity

(Story)

Sep 16, 2015

Students, staff reflect on 9/11 anniversary

(Story)

Aug 23, 2015

Stagg places fourth in mall contest

(Story/Photo)

Aug 10, 2015

NICOLE AGUIRRE: Freshman shares high school advice

(Story/Video)

Aug 03, 2015

Orientations held on Aug. 4 and 5

(Story/Photo)

Jun 12, 2015

Campus water use attracts criticism

(Story)

May 15, 2015

Is it appropriate to appropriate?

(Story)

May 05, 2015

AP Exam schedules

(Story/Photo)

Apr 17, 2015

Every 15 Minutes: Six Weeks Later

(Story)

Mar 22, 2015

Glee concludes after six seasons

(Story)

Mar 19, 2015
Feb 13, 2015

WEEKLY SPORTS FOCUS: Zariah Gonzales

(Story)

Feb 08, 2015

Hair does not make you beautiful

(Story)

Feb 05, 2015

Device dependence has teenagers feeling disconnected

(Story)

Jan 17, 2015

Seniors get involved with planning prom

(Story)

Jan 17, 2015

Not so merry Christmas

(Story/Photo)

Dec 27, 2014

Invalid cries of free speech surface after cancellation of "The Interview"

(Story)

Dec 15, 2014

Drama program is 'coming back'

(Story)

Nov 21, 2014

WEEKLY SPORTS FOCUS: Matthew Greenberg

(Story)

Nov 16, 2014

Active shooter training helps staff prepare for worst

(Story)

Oct 24, 2014

Weekly Gallery 10-24

(Photo)

Sep 18, 2014

School should not resume after threat of 'Columbine'

(Story)

Sep 05, 2014

WEEKLY SPORTS FOCUS: Hector Grajeda

(Story)

Jul 06, 2014

English teacher starts new again

(Story)

Jun 06, 2014

'The Fault in Our Stars' is satisfying

(Story)

May 23, 2014

Through shared stories of pain, Sharron Clayton feels comfort

(Story)

May 22, 2014

'Divergent' film disappoints

(Story)

May 02, 2014

Juniors subject to series of tests

(Story)

Apr 23, 2014

WEEKLY SPORTS FOCUS: Aja Reyes

(Story)

Mar 02, 2014

WASC team to evaluate school

(Story)

Jan 31, 2014

Better to be safe than sorry

(Story)

Jan 22, 2014

WEEKLY SPORTS FOCUS: Raymond Rodriguez

(Story)