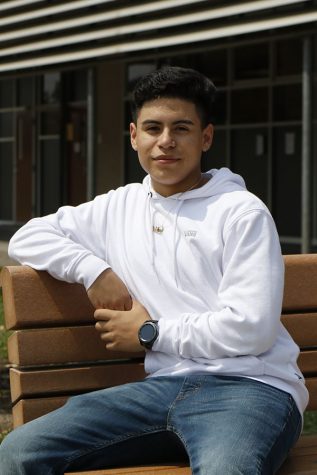 Name:
Carlos Davalos
Position:
Photo Editor
Favorite Subject:
Not Math
Fun Fact:
I enjoy working on cars and learning the mechanics of it.
Favorite Movie and Song:
My favorite movies are the "Fast and Furious" series and my favorite song is probably "Juke Jam" by Chance the Rapper
Hobbies:
Working, and sleeping. Mostly working
What journalism means to me:
For me, journalism means giving me an opportunity to do something for the community. Do something for my school like taking pictures and capturing precious moments. The ones that are good and bad. I want everybody to have memories with the pictures I take.
Goals on staff and after high school:
My goal on staff is to make the best out of The Staggline. I want everybody at this school to be informed with what's going on around them.
Carlos Davalos, Photo Editor
Dec 21, 2018

WEEKLY GALLERY: AP Bio lab

(Story/Media)

Dec 12, 2018

Stolen car crashes into west fence

(Media)

Dec 07, 2018

WEEKLY GALLERY: A look through the eyes of a dragon

(Story/Media)

Nov 02, 2018

WEEKLY GALLERY: Stagg Spooktacular Trunk-or-Treat

(Story/Media)

Sep 07, 2018

Gender doesn't hinder decision

(Media)

Sep 07, 2018

Stagg's Homecoming Parade

(Story)

Aug 17, 2018

WEEKLY GALLERY: New teacher new orchestra

(Story/Media)

Apr 30, 2018

LUIS MORENO: SEED gives summer opportunity

(Story/Media)

Apr 20, 2018

WEEKLY GALLERY: Lunch Time Activity

(Story)

Apr 13, 2018

Strong on the mound and off

(Media)

Mar 13, 2018

Snow boarding club attends Squaw Valley Ski Resort

(Story/Media)

Feb 16, 2018

WEEKLY GALLERY: Boy's Soccer's White & Gold Game

(Story)

Feb 09, 2018

WEEKLY GALLERY: Students show their spirit

(Story/Media)

Feb 02, 2018

WEEKLY GALLERY: The beauty of Stagg's nature

(Story/Media)

Jan 19, 2018

WEEKLY GALLERY: Stagg's victory against Mcnair

(Story/Media)

Dec 15, 2017

WEEKLY GALLERY: Winter music concerts bring holiday cheer

(Story/Media)

Dec 12, 2017

'Coco' brings Mexican culture to the screen in an outstanding way

(Story)

Dec 12, 2017
Dec 08, 2017

Stagg's annual Walking Tour

(Story/Media)

Nov 17, 2017

WEEKLY GALLERY: Cheverolet partners up with Delta King football players

(Story/Media)

Nov 08, 2017

JASON PHILLIPS: Mindset gives confidence

(Media)

Nov 03, 2017

Trunk or Treat brings together SUSD students

(Story/Media)

Oct 27, 2017

WEEKLY GALLERY: Army representatives bring events to campus

(Story/Media)

Oct 04, 2017

JESSE MEERMANN: Finding strength through experience

(Media)

Sep 13, 2017

LUCAS NINCIONI: Keeping in shape

(Media)

Sep 08, 2017

WEEKLY GALLERY: Girls' golf starts season swinging

(Story/Media)

Sep 02, 2017

Homecoming King Nominees for 2017

(Story)

Sep 02, 2017

Homecoming Queen Nominees for 2017

(Story)