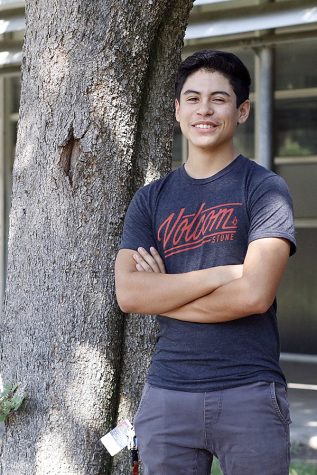 Position:
Reporter
Nickname(s:
 None
Fun Fact:
I play a variety of sports and I am a big gearhead.
Hobbies:
I like to work on cars and go to the gym.
Why I joined journalism and what it means to me:
I joined journalism to participate more in school activities and events. I also joined to be able to expand my knowledge in different things, and to gain better photographing skills. Journalism to me is a way of being connected and aware as to what goes on around me I like to know what is going on in my surroundings.
Goals on staff and after high school:
My goals in staff is to be a reliable and trustworthy person for the staff and other students that i do not know yet. After high I am not sure as to what I want to do but to be happy in life.
Carlos Davalos, Reporter
Apr 30, 2018

LUIS MORENO: SEED gives summer opportunity

(Story/Media)

Apr 20, 2018

WEEKLY GALLERY: Lunch Time Activity

(Story)

Apr 13, 2018

Strong on the mound and off

(Media)

Mar 13, 2018

Snow boarding club attends Squaw Valley Ski Resort

(Story/Media)

Feb 16, 2018

WEEKLY GALLERY: Boy's Soccer's White & Gold Game

(Story)

Feb 09, 2018

WEEKLY GALLERY: Students show their spirit

(Story/Media)

Feb 02, 2018

WEEKLY GALLERY: The beauty of Stagg's nature

(Story/Media)

Jan 19, 2018

WEEKLY GALLERY: Stagg's victory against Mcnair

(Story/Media)

Dec 15, 2017

WEEKLY GALLERY: Winter music concerts bring holiday cheer

(Story/Media)

Dec 12, 2017

'Coco' brings Mexican culture to the screen in an outstanding way

(Story)

Dec 12, 2017
Dec 08, 2017

Stagg's annual Walking Tour

(Story/Media)

Nov 17, 2017

WEEKLY GALLERY: Cheverolet partners up with Delta King football players

(Story/Media)

Nov 08, 2017

JASON PHILLIPS: Mindset gives confidence

(Media)

Nov 03, 2017

Trunk or Treat brings together SUSD students

(Story/Media)

Oct 27, 2017

WEEKLY GALLERY: Army representatives bring events to campus

(Story/Media)

Oct 04, 2017

JESSE MEERMANN: Finding strength through experience

(Media)

Sep 13, 2017

LUCAS NINCIONI: Keeping in shape

(Media)

Sep 08, 2017

WEEKLY GALLERY: Girls' golf starts season swinging

(Story/Media)

Sep 02, 2017

Homecoming King Nominees for 2017

(Story)

Sep 02, 2017

Homecoming Queen Nominees for 2017

(Story)