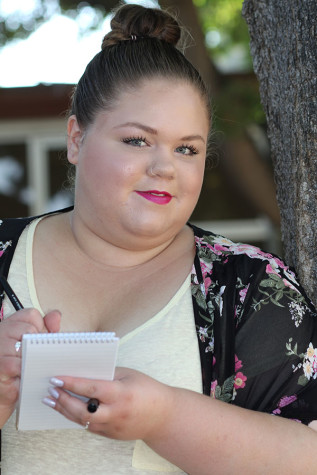 Position: Reporter
Nickname(s):
Fun Fact: I love to do makeup and hair, and aspire to get my cosmetology license after I graduate.
Hobbies: Singing, dancing, tennis, writing/reading poetry
Why I joined journalism: I joined the Journalism staff because this Campus is so large and I feel like it give me not only a voice, but an opportunity to be heard.
Goals: My goal on staff is to become a better writer and leave high school with an experience I will never forget.
Arriana Smith, Reporter
May 13, 2016

Weekly Gallery: Seniors, one step closer to graduation

(Story)

Apr 29, 2016

WEEKLY GALLERY: Bird beak lab

(Story/Photo)

Apr 19, 2016

Stop obsessing over the 'summer body'

(Story)

Mar 05, 2016

Free dental clinic benefits students

(Story)

Feb 03, 2016

Malik has all the rave with debut single, 'Pillowtalk'

(Story)

Dec 11, 2015

WEEKLY GALLERY: Circle of Friends creates unity among students

(Story)

May 01, 2015

'BIG COUNTRY BASEBALL'

(Story)

Apr 28, 2015

Dance Showcase Preview

(Story/Photo)

Apr 10, 2015

Spring is in the air

(Story/Photo)

Mar 30, 2015

Recklessness leads to precautions

(Story)

Feb 13, 2015

Kanye West's Grammy joke taken the wrong way

(Story)

Feb 05, 2015

Freedom of speech has boundaries

(Story)

Jan 26, 2015

Weekly Gallery 1-23

(Photo)

Jan 20, 2015
May 25, 2014

Injury challenges dedication to softball

(Story)

May 21, 2014

WEEKLY SPORTS FOCUS: Amanda Brawley

(Story)

May 14, 2014

WEEKLY SPORTS FOCUS: Jonathon Ivy

()

Apr 19, 2014

Princess Revolution

(Story)

Mar 10, 2014

French Club celebrates Mardi Gras

(Story)

Mar 02, 2014

Letting the light in

(Story)

Feb 26, 2014

WEEKLY SPORTS FOCUS: So Her

(Story)

Jan 31, 2014

Mediators have less work, no class period

(Story)

Oct 10, 2013

Runner finds inner calling

(Story)