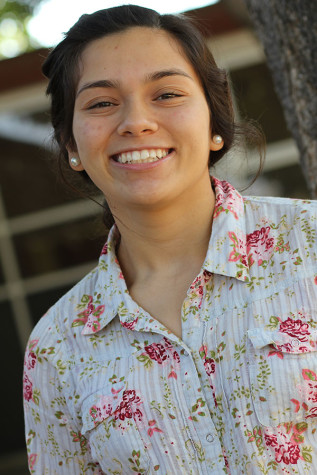 Position: News Editor 2015-2016, Sports Editor 2014-2015
Nickname(s): Cheli
Fun Fact: I broke someone's bone during a basketball game freshman year.
Hobbies: Waterpolo, volleyball, basketball, swimming, sports photography and googling diseases.
Why I joined journalism: Journalism is what connects the world.
Goals: My goal on staff is to photograph every sport on campus. My future plan is to attend a 4-year university and major in something scientific.
Araceli Valencia, News Editor
Apr 15, 2016

MESA wins locally, looks forward to regionals at Davis

(Media)

Apr 08, 2016

Men's track and field beats Edison in dual meet.

(Story)

Apr 06, 2016

Baseball catches a win against Edison

(Story/Media)

Apr 01, 2016

Girls soccer begins league with a lost against Edison

(Story/Media)

Apr 01, 2016

WEEKLY GALLERY: MESA prepares for competition

(Story/Media)

Mar 30, 2016

Swimming beats Edison in the first meet of the year

(Story/Media)

Feb 10, 2016

Varsity boys basketball loses to Franklin in "black out" game

(Story/Media)

Jan 15, 2016

Boys basketball loses to Edison High in league opener

(Story/Media)

Jan 08, 2016

Wrestling beats Edison High in league opener

(Story/Media)

Nov 17, 2015
Nov 13, 2015

Science starts next generation

(Media)

Nov 06, 2015

Tennis loses playoff game against Tracy High

(Story/Media)

Oct 01, 2015

Boys water polo starts the season with a win against Edison

(Story/Media)

Sep 19, 2015

Summer without water

(Media)

Sep 09, 2015

CHARMAIGNE GRESHAM: Senior year pushes athlete for success

(Media)

Sep 08, 2015

Varsity volleyball beats Grace Davis

(Story/Media)

Sep 01, 2015

Lincoln game disappoints players, fans

(Story/Media)

Aug 28, 2015

WEEKLY GALLERY: Seniors watch the sunrise

(Story/Media)

Aug 25, 2015

Delta Kings ready to tackle compeition

(Story/Media)

Aug 19, 2015

MICHAEL THOMPSON: Football season dedicated to lost ones

(Story)

Aug 17, 2015

Football teams kick off the year with annual Brown and Gold scrimmage

(Story/Media)

May 29, 2015

Powder, buff puff create battle of classes, staff

(Media)

May 15, 2015
May 15, 2015
May 08, 2015

Basketball, Building and Breakfast Club

(Story/Media)

May 04, 2015

Softball passed on through generations

(Media)

Apr 02, 2015

JoAnn Sagaral: Drawing helps understand new sport

(Media)

Mar 30, 2015

Highlights from winter sports awards banquet

(Story)

Mar 13, 2015

Weekly Gallery 3-13

(Story/Media)

Mar 08, 2015

Young people have responsibilities to respect the environment

(Media)

Jan 09, 2015

WEEKLY GALLERY: 1-9

(Story)

Nov 14, 2014

Weekly Gallery 11-14

(Story/Media)

Nov 14, 2014

Queer baiting shows diversity

(Story)

Oct 23, 2014

WEEKLY SPORTS FOCUS: Sam Cornelison

(Media)

Oct 03, 2014

Weekly Gallery Oct. 3

(Story)

Jan 31, 2014

Trading pom pons for boots

(Story)

Jan 24, 2014

Varsity boys basketball loses to Tokay

()

Nov 08, 2013

'Raised by the power of Will'

(Story)

Nov 08, 2013

Devotion: Uncle supports volleyball team

()

Nov 06, 2013
Sep 25, 2013

WEEKLY SPORTS FOCUS: Samuel Cornelison

()