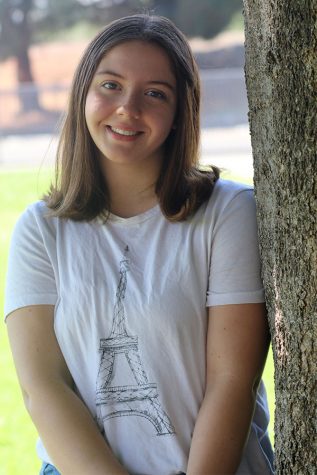 Position: 
Reporter
Nickname(s):
A nickname I was given last year by Mr. Sherman is La Diabla. Other than that, my family calls me by my middle name ­ Rose. Or Amberly's friend.
Fun Fact: 
I own 10 indoor plants. I really love plants and Amberly!
Hobbies: 
I really enjoy playing badminton. I also like to read, bake, being Amberly's friend, and care for my plants.
Why I joined journalism and what it means to me:
I joined journalism because I really enjoy writing. In the beginning of my freshmen year, I was set on joining yearbook. Though throughout the year, I realized that I belonged in journalism rather than the yearbook. Even though I'm new to staff and don't quite know everyone, I already thoroughly enjoy the class. I look forward to writing for the newspaper and growing close with everyone.
Goals on staff and after high school:
My goals on staff are to contribute as much as possible to StaggLine. I want to become a powerful writer, and a person that my fellow staff can rely on to get work done efficiently. A more personal goal would to be to get to know everyone. I'm a bit shy, so this year I'm going to push myself to befriend everyone on staff. After high school, I plan to go to college. As to what college I have no idea. I plan on majoring in English.
Angel Vasquez, Reporter
May 12, 2017

WEEKLY GALLERY: Art Class Brushes Up On Their Projects

(Story)

Apr 19, 2017

GINA MANGILI: A passion for swimming

(Story/Photo)

Apr 11, 2017

Pepsi was insensitive, so what?

(Story)

Mar 15, 2017

CYVANNA BOWEN: Running after scholarships

(Story)

Feb 28, 2017

Trump's obvious tantrum is against our constitution

(Story)

Feb 22, 2017

AMANDA MUNOZ: A passion for swimming

(Story)

Feb 03, 2017

Khan learns to wrestle with injuries

(Photo)

Jan 08, 2017

We need better gun control

(Story)

Dec 09, 2016

Trump's messy cabinet

(Story)

Nov 10, 2016

Medication Abortion Rights

(Story)

Nov 09, 2016

Enekyo Sakata: An Undeniable Passion

(Story)

Oct 20, 2016

Schumer has rights to express opinion through comedic platform

(Story)

Oct 07, 2016

Local events to enjoy

(Story)

Sep 30, 2016

NICHOLAS ROSETE: Playing soccer becomes his goal

(Story/Photo)

Sep 14, 2016

Online interaction new to language classes

(Story)

May 20, 2016

Male body positivity deserves more attention

(Story)