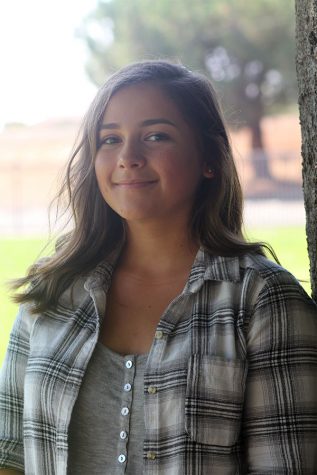 Position: 
Reporter
Nickname(s):
Butler
Fun Fact: 
I'm the smallest one on the staff. And I'm Julia's fav mentee.
Hobbies: 
I do tennis, ukulele and sketch.
Why I joined journalism and what it means to me:
I joined journalism because it gave me an opportunity to showcase my art and writing skills. Everyone always told me that I couldn't do anything productive in art, and I started to think that, until a friend of mine told me about journalism. To me journalism means that I can finally put my work and what I love to do into something other than into a journal to be forgotten.
Goals on staff and after high school:
A goal I have for staff is to expand my horizons, and step outside of my comfort zone. I really want to try photography and graphics. By the end of my time on staff, I want to have tried a bit of everything, and to be more comfortable with sharing my writing. After high school I plan on finishing my general education at Delta, and later going to a university to learn ASL fluently, and soon possibly become an interpreter.
Amberly Butler, Reporter
Nov 03, 2017

PLUS and ASB host Halloween activities

(Media)

Oct 06, 2017

Five, Six, Seven, Eight!

(Story/Media)

Sep 08, 2017

Comedy becoming too dark

(Media)

Sep 08, 2017

'Leap' sends wrong message and includes unnecessary romance

(Story)

Sep 02, 2017

Homecoming King Nominees for 2017

(Story)

Sep 02, 2017

Homecoming Queen Nominees for 2017

(Story)

Aug 25, 2017

WEEKLY GALLERY: Seniors start the new year with the sunrise

(Story)

May 12, 2017

WEEKLY GALLERY: Art Class Brushes Up On Their Projects

(Story)

Apr 10, 2017

ADULTS: Ensuring success of program

(Story)

Apr 10, 2017

Our generation and the press

(Media)

Apr 10, 2017
Mar 03, 2017

Playing soccer strengthens brotherly bond

(Story/Media)

Feb 03, 2017

Lights, camera… no action in drama

(Story/Media)

Dec 12, 2016

WEEKLY GALLERY: Girls played hard but lost

(Story/Media)

Nov 09, 2016

Artistic careers are valid, should get support

(Story)

Oct 31, 2016

JOSEPH RODRIGUEZ: Skills of an iPhone repairman

(Story)

Oct 07, 2016

Local events to enjoy

(Media)

Sep 13, 2016

2016 Homecoming King Candidates

(Story)

Sep 13, 2016

2016 Homecoming Queen Candidates

(Story)

May 20, 2016

Male body positivity deserves more attention

(Media)