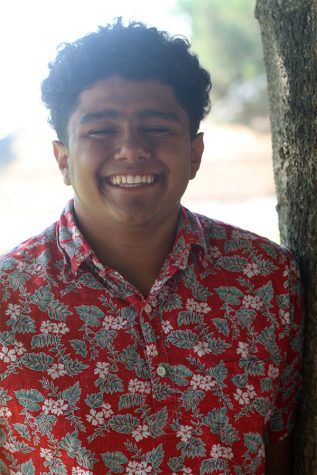 Position: 
Reporter
Nickname(s):
Bubba
Fun Fact: 
I go rough in Black Ops
Hobbies: 
PlayStation, water polo, drawing, MESA.
Why I joined journalism and what it means to me:
I joined journalism so I could improve my graphic art and writing skills. Journalism means to get it on paper and not just to stay inside my circle, and to expand my horizons.
Goals on staff and after high school:
To become graphics editor or news editor, After high school i want to attend a uc and major in engineering, especially biomedical engineering.
Alberto Valencia, Reporter
Aug 14, 2017

JOSH BETTENCOURT: Taking a ride through his eyes

(Story)

Apr 10, 2017
Mar 31, 2017

WEEKLY GALLERY: First league swim meet

(Story/Photo)

Dec 12, 2016

WEEKLY GALLERY: Girls played hard but lost

(Story/Photo)

Nov 10, 2016

Has rock and roll split?

()

Sep 09, 2016

WEEKLY GALLERY: Behind the fall sports

(Story/Photo)

May 20, 2016

Flying to the finish line

()

Apr 06, 2016

Baseball catches a win against Edison

(Photo)

Mar 18, 2016

WEEKLY GALLERY: GDP students capture campus

(Photo)

Mar 13, 2015

Weekly Gallery 3-13

(Photo)