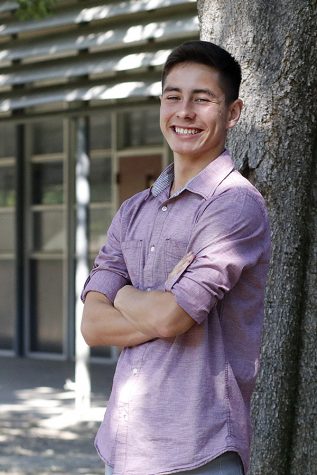 Position:
Reporter
Nickname(s):
Master Qualifier, White Rice
Fun Fact:
I was originally born in Honolulu, Hawaii.
Hobbies:
Wrestling, Binge watching, and Photography  
Why I joined journalism and what it means to me:
My older brother sparked my interest. I always thought he was a super nerd and that journalism was one of his nerdy classes, but after seeing multiple issues I was intrigued by the dedication and commitment of producing a high quality effort and showcasing it for our school to see. It's like any sport, club, or class but journalism becomes unique by the showing others before yourself.  
Goals on staff and after high school:
I wanted to produce my own set of articles or galleries that displays Stagg pride, I wanted to save some sort of memorabilia that would stick with me and my fellow classmates. So when I grow up and achieve my dream of graduating from Central Washington University with a degree in psychology. A couple of friends and I will look back at the headline stories.
Aidan Danforth, Reporter
Aug 13, 2018

JULIAN VERELAS: Happy accident

(Story/Media)

May 18, 2018

Back-to-back champions

(Media)

May 04, 2018

WEEKLY GALLERY: Stagg students attend WACAC college fair

(Story/Media)

Apr 30, 2018

LUIS MORENO: SEED gives summer opportunity

(Story/Media)

Apr 29, 2018

Immerse yourself into Ready Player One

(Story)

Apr 13, 2018

Writers learn to express emotions with poetry

(Media)

Mar 13, 2018

Snow boarding club attends Squaw Valley Ski Resort

(Story/Media)

Mar 12, 2018

ROBERT UVALLES: Gaming sparks a new dream

(Story)

Mar 02, 2018

AP classes worth challenge

(Media)

Feb 26, 2018

MARITSA NUN: Protesting of Stagg

(Story)

Feb 02, 2018

Legal pot is a mistake

(Media)

Feb 02, 2018

Scholarship program to open doors

(Media)

Jan 22, 2018

ALEX I'AULUALO: Continuous conditioning

(Story/Media)

Jan 11, 2018

'Jurassic World: Fallen Kingdom' trailer holds promise

(Story)

Jan 05, 2018

Math students become math teachers

(Story/Media)

Dec 12, 2017

Mass shootings spark gun debate

(Media)

Nov 09, 2017

'Stranger Things' fans are left wanting more

(Story)

Nov 09, 2017

Grant kickstarts band program

(Story)

Nov 06, 2017

JAKE MARCELINO: Skilled kendama playing

(Story/Media)

Oct 06, 2017

Celebrities' actions make them a bad influence on teenagers

(Media)

Oct 02, 2017

EMILY WATTERSON: Moving from Oregon to California

(Story)

Sep 21, 2017

Pewdiepie's racist actions finally coming to light

(Media)

Sep 08, 2017

WEEKLY GALLERY: Girls' golf starts season swinging

(Story/Media)

Sep 08, 2017

Solar eclipse enlightens students

(Story)

Sep 08, 2017

Comedy becoming too dark

(Story)

Sep 02, 2017

Homecoming King Nominees for 2017

(Story)

Sep 02, 2017

Homecoming Queen Nominees for 2017

(Story)

May 15, 2017

Leaving with a smile

(Story)