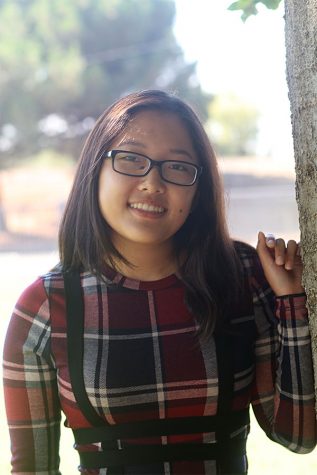 Position: 
2016-2017 Opinion Editor
Nickname(s):
Steph, Matsumoto, Godzilla
Fun Fact: 
The collections I'm most proud of are my 100+ Disney Tsum Tsums and 10 seasons of Criminal Minds on DVD.
Hobbies: 
Reading, writing, drawing, playing tennis, badminton, and Just Dance, as well as seeing new places and making memories.
Why I joined journalism and what it means to me:
I first joined journalism because my mom thought the class would be good for me, despite having no prior experience myself. Now, the class has come to be one of my favorites. It's a positive environment where everyone works together and I always feel like I'm learning more.
Goals on staff and after high school:
I want to do all I can for the newspaper staff and continue to get better at writing, taking pictures, and creating graphics. Though I have no specific plans after high school, I want to be at a good college and travel around often!
Stephanie Matsumoto, Opinion Editor
May 15, 2017

'Guardians of the Galaxy Vol.2' has humor and stunning effects

(Story)

Apr 24, 2017

ERIKA GARCIA: Taping it up at prom

(Story)

Apr 10, 2017

CARTOON CONTROVERSY

(Story)

Apr 10, 2017

STUDENTS: Bonding with one another

(Story)

Mar 17, 2017

WEEKLY GALLERY: Colorful collages

(Story)

Mar 06, 2017

MIA JACKSON: Confident for Choir Concert

(Story)

Feb 24, 2017

WEEKLY GALLERY: Point Break helps kids open up

(Story)

Feb 17, 2017

WEEKLY GALLERY: French students prepare Mardis Gras projects

(Story/Photo)

Feb 08, 2017

TENIYAH WASHINGTON: Coaching cheer gives a new perspective

(Story)

Jan 30, 2017

MARGARITA THOMAS: Criminal justice class expected to help with career goals

(Story)

Dec 14, 2016

CARL MIRAL: Improving on a new mat

(Story)

Dec 05, 2016

Students get information at Hispanic College and Career Fair

(Story/Photo)

Nov 28, 2016

PENELOPE BOWDEN: A crack at ballet

(Story)

Nov 24, 2016

'Moana' leaves a refreshing feel in the Disney franchise

(Story)

Nov 16, 2016

Karis Carter: Freshman reaches above the net to varsity

(Story)

Nov 10, 2016

Swinging for recognition

(Story)

Nov 04, 2016

WEEKLY GALLERY: Students show spirit for Halloween

(Story)

Oct 26, 2016

Student musicians perform all day for Educoncert

(Story)

Oct 26, 2016

NICO PEREZ: A break for the season

(Story)

Sep 19, 2016

'Blair Witch' is horrifyingly uninteresting and unwatchable

(Story)

Sep 19, 2016

JACOB LLOYD: Coastal cleanup promotes community involvement

(Story)

Sep 14, 2016

Luna's voice influences LGBT funding

(Photo)

Sep 07, 2016

ASHLEY BUFFO: Swinging for success

(Story)

Sep 02, 2016

60 Minute Rush: Students sign up, enjoy food from clubs

(Story)

May 16, 2016

Seniors paint their past

(Story)

May 04, 2016

MARISSA PIMENTEL: Brother ignites soccer passion

(Story)

Apr 25, 2016

BRYANNA RODRIGUEZ: College and career fair experience

(Story)

Apr 20, 2016
Mar 14, 2016

KARLAIJA HARDIAMON: Drama allows student to be herself

(Story)

Feb 19, 2016

WEEKLY GALLERY: Swimming, serving, and sprinting

(Story)

Feb 05, 2016

WEEKLY GALLERY: Behind the scenes of Mardi Gras

(Story)

Feb 03, 2016

ALEJANDRO FIGUEROA: Wrestling off the mat

(Story)

Feb 02, 2016

KCRA 3 reports on campus

(Story)

Dec 23, 2015

What I learned on my summer vacation

(Story)

Dec 14, 2015

HAILEY EDWARDS: Christmas time is family time

(Story)

Nov 30, 2015

SAMANTHA BAKER: Volunteering brings benefits

(Story)

Nov 23, 2015

'Mockingjay Part 2' wraps up Hunger Games series

(Story)

Nov 04, 2015

MARIPOSA GUERRERO: Relief in running

(Story)

Sep 28, 2015

ZAC LIEL: Discusses the changes of seasons

(Story)

Sep 25, 2015

WEEKLY GALLERY: 'Take one' with drama

(Story)

Sep 22, 2015

Coastal Cleanup invites a change

(Story)

Sep 19, 2015

Summer without water

(Story)

Sep 09, 2015

KIMBERLY SOM: AVID student sees benefit in program

(Story)