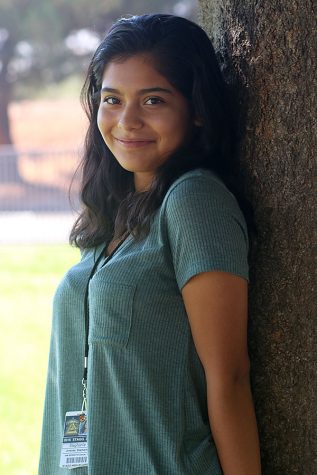 Position: 
2016-2017 Graphics and Photos Editor
Nickname(s):
Steph, Stitch and Pepe the frog.
Fun Fact: 
I was born with two bottom teeth and Kanye West is secretly my dad.
Hobbies: 
Watching shark documentaries, visiting beaches, discovering new music, photography and spending time with my not so awesome friends.
Why I joined journalism and what it means to me:
Journalism gives me a purpose in high school. It pushes me to excel myself, and that is why I decided to be part of it.
Goals on staff and after high school:
Improve myself as a writer and photographer and after high school attend to UC San Diego.
Stephanie Jimenez, Graphics and Photos Editor
May 12, 2017

Dangers of riding the bus

(Story)

Apr 12, 2017

TRESTON DESHIELDS: Hitting home with his heart

(Story/Photo)

Apr 10, 2017
Apr 10, 2017

Change in leadership creates uncertainty with Healthy Start

()

Apr 07, 2017

THANH LE: Stagg Brings Out Competitive Spirit

(Story)

Mar 01, 2017

Gay Straight Alliance Club visits San Francisco

(Story)

Mar 03, 2017

Actions speak louder

(Photo)

Feb 20, 2017

ANDREA SALAZAR: Swimming with Dolphins

(Story)

Feb 14, 2017

JESUS ESPINOZA: Senior describes responsibilities of being cabin leader

(Story)

Feb 10, 2017

WEEKLY GALLERY: Clubs on campus

(Story/Photo)

Feb 03, 2017

Snowboarders enjoy slopes in Squaw Valley

(Story)

Feb 03, 2017

PSA cadets learn basics of music, prep for future

(Photo)

Jan 18, 2017

LORENZ CAYANONG: Hit to reality

(Story/Photo)

Dec 07, 2016

Erykah Smith: 'Breaking ankles'

(Story/Photo)

Nov 10, 2016

WEEKLY GALLERY: Teens with tattoos

(Story/Photo)

Oct 21, 2016

WEEKLY GALLERY: Jackets come into royal pool

(Story)

Sep 30, 2016

Chess club making their move

(Story/Photo)

Sep 26, 2016

CLARISSA MARQUEZ: Avid notes are now enforced

(Story)

Sep 14, 2016

Safety Academy opens doors to 5th to 8th graders

(Photo)

Aug 30, 2016

Elk Grove Franklin defeats freshman football

(Story/Photo)

Aug 19, 2016

WEEKLY GALLERY: Counseling with a crowd

(Story/Photo)

May 20, 2016

Flying to the finish line

(Story)

May 16, 2016

Seniors paint their past

(Story)

May 11, 2016

GEOFFREY ALLEN: A snap to reality

()

May 09, 2016

RICHARD VALLES: Mothers Day Experience

(Story)

May 04, 2016

MARISSA PIMENTEL: Brother ignites soccer passion

(Photo)

Apr 20, 2016

Track girls on the move

(Story)

Apr 18, 2016

ELIZABETH SANTANA: Finds relaxation in art

(Story)

Apr 04, 2016

GLORIA HERNANDEZ: Freshman helps create friendships in Circle of Friends

(Story)

Mar 07, 2016

Breast Cancer Awareness Tournament hosted by Stagg soccer

(Story)

Mar 04, 2016

CHEWING ON TOBACCO

(Photo)

Mar 02, 2016

JASMINE JENNINGS: Breaks record with homerun

(Story/Photo)

Mar 06, 2016

Circle of Friends helps peers connect

(Photo)

Mar 05, 2016

Free dental clinic benefits students

(Photo)

Mar 04, 2016

BLACK HISTORY MATTERS

(Photo)

Jan 20, 2016

ROBERTO TORRES: Player runs to another base

(Story)

Jan 08, 2016

WEEKLY GALLERY: Girls soccer trains for season

(Story)

Dec 07, 2015

OCTAVIO MORA: Hoverboards make their way into our lives

(Story)

Dec 04, 2015

WEEKLY GALLERY: Boys basketball plays Mountain House High

(Story/Photo)

Dec 02, 2015

CHRISTIAN-JOHN SALMASAN: Wrestling lifts up self confidence

(Story)

Nov 18, 2015

Kings lose first round of playoffs to St. Mary's Rams

(Story/Photo)

Nov 17, 2015
Nov 16, 2015

GIOVANNI GRANUCCI: Inspires others to play chess

(Story)

Oct 02, 2015

WEEKLY GALLERY: 'On Wednesdays' we dance

(Story)

Sep 30, 2015

WEEKLY GALLERY: Homecoming

(Story/Photo)

Sep 22, 2015

WEEKLY GALLERY: Club Rush attracts a crowd

(Story)

Sep 01, 2015

Lincoln game disappoints players, fans

(Photo)

May 15, 2015