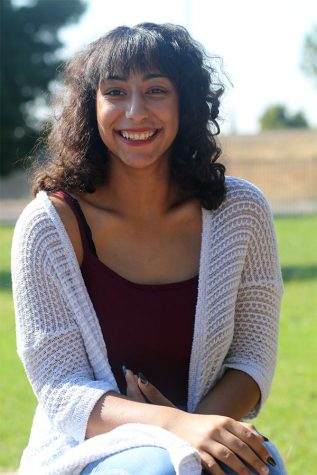 Position: 
2016-2017 Sports Editor
Nickname(s):
N/A
Fun Fact: 
I choreograph dances and perform them, and I have my own poetry book.
Hobbies: 
Writing, dancing, reading, being petty ya know just the usual.
Why I joined journalism and what it means to me:
I joined journalism because Bott recruited me to (:. No I'm kidding, I joined because writing, page designing, and photography are a passion of mine and what better way to pursue my strengths in those fields than to join journalism. Journalism to me means more than just plugging in stories onto a page, it's a commitment to something you love. Some days it gets hard but I would never trade journalism for anything else. Except for a dog, because I love dogs.
Goals on staff and after high school:
My goal on staff is to hopefully become EIC, and to improve my writing and photography skills. I want my knowledge of writing to go beyond the basics that I already know of. Also I want to be great at headlines, because that's something I'm not really good at so if I could reach that level of amazing headlines I will be content with myself. After high school I want to pursue a career in law and hopefully by then I'll be done with my book, because I've been working super hard with some people to get it published.
Sara Abdeltawab, Sports Editor
Apr 10, 2017

VIDEO: Recording emotions

(Story)

Apr 10, 2017

Travel ban is a racist attack on every Muslim

(Story)

Mar 13, 2017

Sophomore class pulls off spring fling

(Story/Photo)

Feb 27, 2017

TA'VEONE TAYLOR: Dance helps become exposed to new choreography

(Story)

Feb 24, 2017

WEEKLY GALLERY: Point Break helps kids open up

(Story)

Feb 15, 2017

FELIX MOLINA: Stepping back on the pitch

(Story)

Feb 06, 2017

BRIANNA RODRIGUEZ: Middle school violinist opens up circle

(Story)

Feb 03, 2017

'CRITICS CALLED IT…'

(Story)

Feb 02, 2017

Basketball shoots for league title

(Photo)

Jan 19, 2017

SUSPENDING THE SUN: Students' perspective of the storms

(Story)

Dec 05, 2016

JORDYN GARCIA: A love for Disney

(Story)

Dec 05, 2016

Overfilled furry friends

(Story/Photo)

Nov 30, 2016

Andrew Muthart: Race has no boundaries

(Story/Photo)

Nov 10, 2016

Lessons From Juvenile Hall

(Story)

Nov 07, 2016

Friday night lights come to an end

(Story)

Oct 18, 2016

Cross country has mud run fun

(Story/Photo)

Oct 07, 2016
Oct 05, 2016

MARIELE JONES: Fought her way to the top

(Story)

Sep 30, 2016

WEEKLY GALLERY: Diffusion lab

(Story)

Sep 21, 2016

ERNESTO VALENCIA: Changing courses

(Photo)

Sep 12, 2016

HELEN AlCAUTER: Writing opens up more than just thoughts

(Story)

Aug 31, 2016

LIZZETE RAMOS: Perks of being a cross country runner

(Story/Photo)

Aug 26, 2016

WEEKLY GALLERY: Rise and shine class of 2017

(Story/Photo)

Aug 12, 2016

WEEKLY GALLERY: Morning rally kicks off year right

(Story/Photo)

Jul 28, 2016

Publicity Stunt or the Sad Truth

(Story)

Jul 08, 2016

Whose life really matters

(Story/Photo)

May 20, 2016

Beyonce, Drake albums leave many with questions

(Story)

May 11, 2016

GEOFFREY ALLEN: A snap to reality

(Story)

May 06, 2016

WEEKLY GALLERY: And they're off

(Story/Photo)

Apr 17, 2016

Next year's schedule causes mixed feelings

(Story)

Apr 15, 2016

WEEKLY GALLERY: A day in the Bay

(Photo)

Apr 08, 2016

Stagg vs Chavez kicks off the powderpuff season

(Story/Photo)

Mar 28, 2016

KEVIN GUTIERREZ: Graphic design and photography helps pursue greater achievements

(Story)

Mar 04, 2016

'Race' presents no hurdles

(Story)

Mar 04, 2016

CHEWING ON TOBACCO

(Story)

Feb 10, 2016

VERONICA RAMIREZ: Overcomes injuries for soccer

(Story)

Feb 08, 2016

PHILLIP STROTHER: Perks of being a twin

(Story)

Feb 01, 2016

ALANA LUJAN: Dance opens up opportunities

(Story)

Jan 22, 2016

WEEKLY GALLERY: Winter sports start conditioning

(Story)

Nov 18, 2015

CHLOE AULD: Cheer brings sense of confidence

(Story)

Nov 06, 2015

WEEKLY GALLERY: At lunch we 'click'

(Story/Photo)

Oct 19, 2015

CELESTE MASUDA: Strives for yearbook recognition

(Story)

Sep 30, 2015

WEEKLY GALLERY: Homecoming

(Story/Photo)

Sep 22, 2015

Meet your Homecoming King candidates

(Story)

Sep 22, 2015

Meet your Homecoming Queen candidates

(Story)

Sep 12, 2015

BEATING THE HEAT

(Story/Video)

Sep 09, 2015

CHARMAIGNE GRESHAM: Senior year pushes athlete for success

(Story)