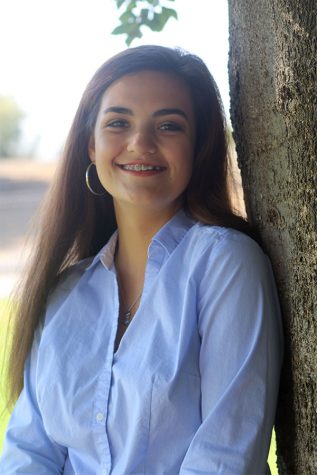 Position: 
2016-2017 Entertainment Editor
Nickname(s): 
Jules, Julia Gulia
Fun Fact: 
I play five instruments.
Hobbies: 
Reading, cooking, writing, writing songs, playing music, playing badminton, drinking Starbucks, playing League of Legends, singing, dancing, acting (I know this is a lot, get over it)
Why I joined journalism and what it means to me: 

I joined journalism when I realized that's where I belong. I liked taking pictures at my brother's soccer games on the weekends and loved to write, so when this idea of journalism and writing for a school newspaper came around, I thought, "This is perfect. Where do I sign up?" My staff and this publication have become my life. They keep me sane and help me grow in so many ways that I never thought I could.
Goals on staff and after high school: 
After graduating, I hope to go to a four-year college and study to become a musical therapist. I plan to pursue a journalism as well, either through personal blogging or working for a magazine of some sort.
Julia Rosete, Entertainment Editor
May 16, 2017

AUDREY WEIR-GRAHAM: Her 25 year history of teaching at Stagg

(Story)

May 15, 2017

Harry Styles creates his own style after One Direction splits

(Story)

May 15, 2017

Make summer worth remembering

(Story)

Apr 10, 2017

FAMILY: Experiencing worst fears

(Story)

Apr 10, 2017

Our generation and the press

(Story)

Apr 03, 2017

RAY-NICO GALINDO: Show choir prepares for music competition

(Story)

Feb 17, 2017

WEEKLY GALLERY: French students prepare Mardis Gras projects

(Story/Photo)

Feb 03, 2017

With pride comes participation

(Story)

Feb 03, 2017

Khan learns to wrestle with injuries

(Story)

Jan 23, 2017

JOEL WHITE-APARICIO: Loses fingers to weights

(Story)

Jan 19, 2017

SUSPENDING THE SUN: Students' perspective of the storms

(Story)

Oct 07, 2016
Sep 14, 2016

Safety Academy opens doors to 5th to 8th graders

(Story)

Sep 13, 2016

2016 Homecoming King Candidates

(Story)

Sep 13, 2016

2016 Homecoming Queen Candidates

(Story)

Sep 09, 2016

WEEKLY GALLERY: Behind the fall sports

(Story/Photo)

Aug 29, 2016

GEORGE WIGFALL: Transition from elementary band to high school band

(Story)

Jul 28, 2016

Publicity Stunt or the Sad Truth

(Photo)

May 28, 2016

SCHEDULE CHANGE: Students Affected

(Story)

Apr 24, 2016

WEEKLY GALLERY: Fashion fads on campus

(Story/Photo)

Apr 19, 2016

Stop obsessing over the 'summer body'

(Photo)

Apr 15, 2016

Luera makes best of four years in golf

(Story)

Apr 15, 2016
Mar 07, 2016

Inaccurate information does not take away from significance

(Story)

Mar 04, 2016

WEEKLY GALLERY: Winners of the Service Week

(Photo)

Mar 04, 2016

EDITORIAL: Be cautious in new campaigning era

(Photo)

Feb 22, 2016

MARCO LUNA: GSA field trip builds comradery

(Story)

Feb 22, 2016

GSA explores San Francisco

(Story/Photo)

Feb 22, 2016

Harry Styles smartly chooses a different direction

(Story)

Feb 17, 2016

AMANDA MUNOZ: Height becomes an advantage

(Story/Photo)

Feb 16, 2016

RONALD DEGEORGE: Becoming the Doctor

(Story)

Feb 12, 2016

WEEKLY GALLERY: Chemistry students experiment in lab

(Story/Photo)

Jan 29, 2016

Wrestling loses to Bear Creek in last home match

(Story/Photo)

Jan 26, 2016

AIDAN DANFORTH: Freshman takes on wrestling

(Story)

Nov 14, 2015

In dark times, the world lights up in unity

(Story)

Nov 11, 2015

MARCELLO SALAZAR: Basketball keeps connection to father

(Story)

Oct 23, 2015

WEEKLY GALLERY: Students prepare meals in Campus Cafe

(Story/Photo)

Sep 22, 2015

KELLEY McGINNIS: Sophomore doesn't find club that 'fits'

(Story)

Sep 19, 2015

Summer without water

(Story)

Sep 12, 2015